Lakefront property is a dream come true for many Americans who love the outdoors. Not only do waterfront homes deliver proximity to water sports and a general feeling of vacation, but they are also a wise
long-term investment
. Unfortunately, lake homes are sometimes notorious for putting functionality over comfort and luxury, which could hurt your home's value as time goes on.
Updates are an essential aspect of maintaining your home's value. Yes, incredible views are a huge selling point, but they can only get you so far. Now more than ever, buyers are looking for new, luxurious amenities, even in older homes. Fortunately, there are several simple yet effective upgrades you can do to make your Sammamish home more luxurious.


Here are five chic and functional upgrades that will ensure your lakefront home stays up to date in the Sammamish real estate landscape. Let's get started!
Outdoor bathing area
When you live by the lake, the odds are that's where you'll be spending most of your time. After all, access to the lake and everything it offers is probably why you bought Sammamish real estate in the first place! Unfortunately, lake water often equals dirt and algae, which can damage your floors and furniture — and you don't want that in your home!


An outdoor shower and changing area is a convenient solution to solve those worries. You can wash, dry, and change right outside your home and save the cleanup headache! Then, when you spend the day on the lake, you can wash the day off outside and keep your home nice and clean.


An additional shower is also excellent for when you have guests. People won't have to wait their turn to shower and change — you can even build a complete outdoor bathhouse with a toilet for greater functionality.
Backyard firepit and lounge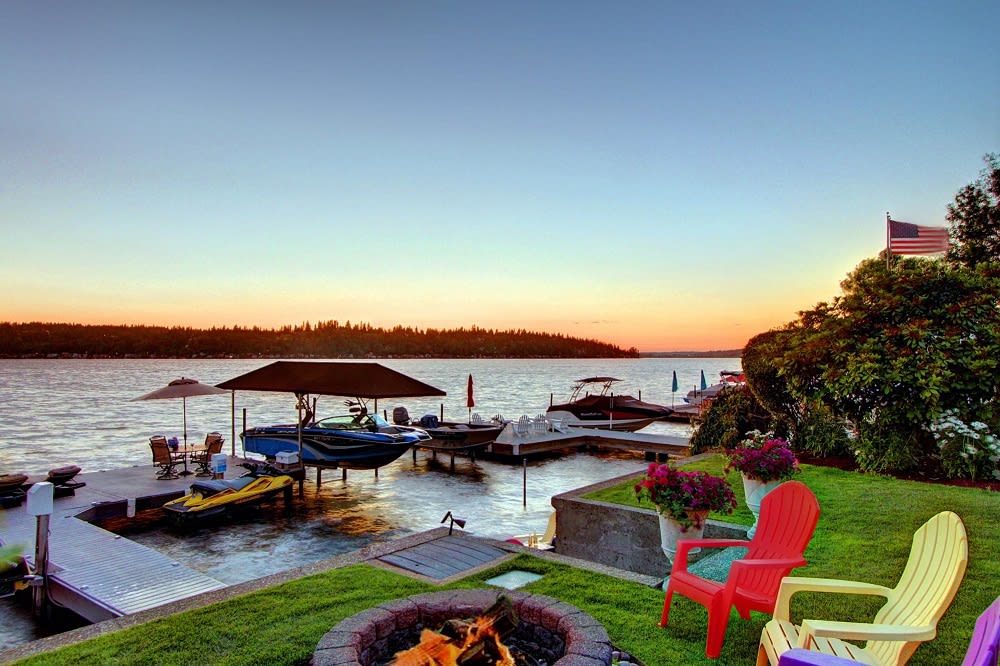 Don't let the sunset stop you from enjoying your Sammamish real estate! Create your own nighttime backyard oasis complete with a fire pit, lounge area, and twinkle lights. Enjoy the cool lake breeze as you toast some marshmallows with your family.
Add some lounge chairs, a coffee table, and an outdoor rug to create an outdoor living room. You can also add a dining table and chairs for dining al fresco.


This chic little area will be an excellent way to unwind and enjoy the tranquility after a long day on the lake. You can even install a glamping tent or daybed for outdoor lounging. You may even want to camp out for a night or two under the stars!
Boathouse pub
What better way to relax after a day on the lake than with a few drinks? Exchange laughs and stories with your friends from the comfort of your very own boathouse bar. Then, at the end of the night, your home will just be steps away.


A boathouse bar will enable you to keep the party going year-round by creating an indoor space for celebrations. The bar can also double as an entertainment room for game nights and watching sports.


Don't have a boathouse? No problem! You can convert any shed, garage, or basement into your own bar! You can even create an outdoor bar on your deck or patio. Of course, an outdoor bar cannot provide the same all-seasons functionality as a boathouse, but it's a nice second option.
Rooftop deck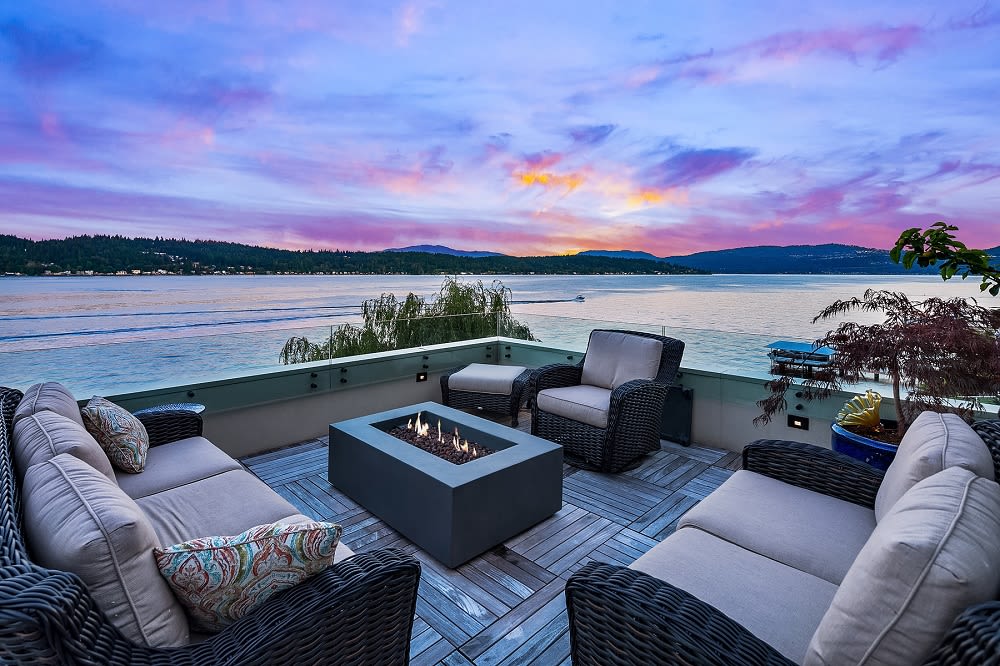 Let's face it: You bought this home for its amazing view! In fact, you probably paid a premium to snag the perfect waterfront scenery. Sure, you can enjoy it from your patio, but why not take it a step further and install an observation deck on your rooftop?
A rooftop deck will give you a stellar 360-degree view of the lake and its surroundings. From there, you can enjoy the sunrise, sunset, stargazing and simply take in the fantastic view of the lake. It will also give you more space for entertaining guests.


When you have a waterfront home, you want to ensure the best view possible. The best homes for sale in Sammamish make the view the focal point, and an observation deck is sure to wow the buyers. It might even be the selling point!
Sliding glass doors
Upgrading to sliding or folding glass windows is another way to maximize your view. Large glass doors will allow you to enjoy unobstructed lake views from inside the house. They create the illusion of more space, which is helpful if you have smaller rooms. Furthermore, your home will always be bright and cheerful due to the enormous amount of natural light shining through the windows.


Sliding doors will help you create the perfect indoor/outdoor lakefront living experience. Installing your sliders adjacent to a patio or deck will help bring the outdoors inside, so you can still take in the view, enjoy the breeze and get the feel of being outside, even when you're stuck inside cooking and cleaning. Leave them open during parties and barbecues to create a seamless, open party space.


Homes for sale in Sammamish are a hot commodity, and most buyers are looking for new, upgraded, and unique houses. Improving your home with luxurious upgrades will ensure it holds its value and remains competitive in the market when you decide to list.


To recap, if you're looking to make some luxury upgrades to your Sammamish home, you can add the following upgrades:
Outdoor bathing area

Backyard firepit and lounge

Boathouse pub

Rooftop deck

Sliding glass doors
If you are a buyer looking for homes for sale in Sammamish, reach out to trusted local agent
Margo Allan
if you have questions or would like to schedule a showing. Margo will help you find your dream home, whether you're looking for a permanent residence, vacation home, or investment property!