Many large, luxurious Bellevue homes for sale sit on the market for months without catching a bite. Worse still, the longer that these properties are listed without action, the less likely they are to capture the attention of qualified buyers. More often than not, successfully selling a luxury home has less to do with the actual merits of a property and more to do with the marketing strategies employed. With skillful marketing, you can get rapid responses from multiple, high-quality prospects in seemingly no time. This remains true whether the Bellevue, WA real estate marketing is buzzing with activity or muddling its way through a decidedly slow period. Following are eight ways to increase the number of offers on your home with smart marketing, careful planning, and efforts to connect with the right people.
1. Remember why you fell in love with your home and then tell your story
For both luxury
Lake Sammamish homes
and high-end
homes in Bellevue
, the draw for buyers is largely tied up in location and
the stories behind the homes themselves
. This location attracts avid hikers, canoeing enthusiasts, and ambitious professionals who want to raise their families in quaint surroundings while maintaining access to the nightlife and general attractions of Seattle. Think about why you fell in love with your home. What drew you to the neighborhood and your house in particular? Which features and amenities stood out and best complemented your lifestyle? Odds are, the selling points that appealed to you will be the very same things that appeal to other buyers.

By using your marketing tools as an opportunity to tell your story, you can attract people with similar interests and goals. Moreover, you'll know which features should be highlighted when preparing virtual tours, photo galleries, and advertising videos. If you fell in love with your home because it had a gourmet kitchen that perfectly supported your growing catering business, mention this. If being able to take your canoe out on the water every morning was an important part of your physical fitness routine, this is worth a mention as well. When it comes to storytelling, video journals and video tours offer two very effective ways to tell your story.
2. Highlight the community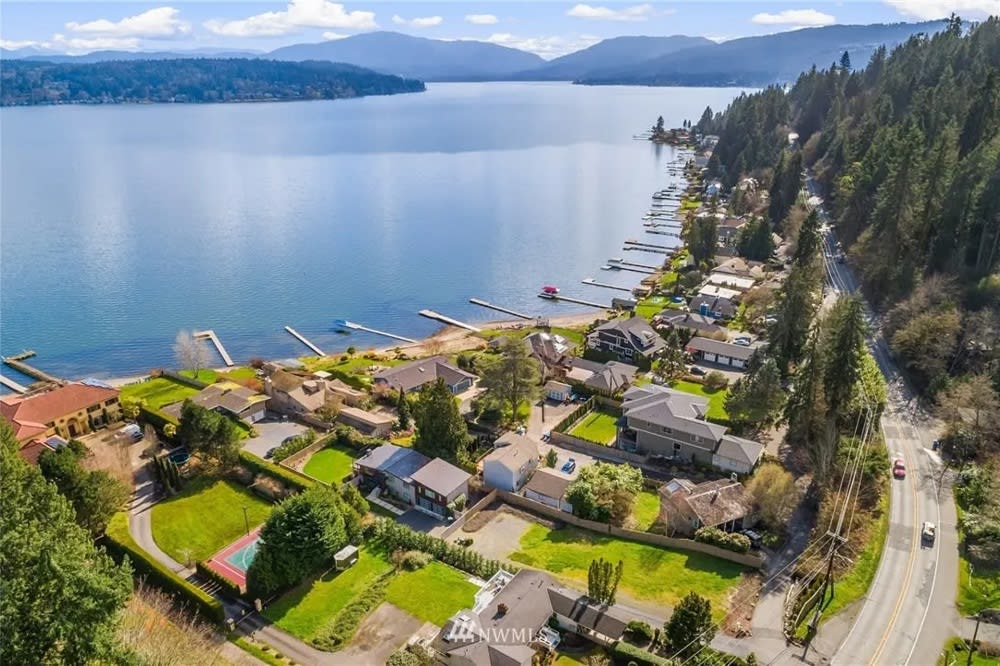 Photo courtesy of Margo Allan Real Estate

Selling a luxury home isn't just about the home itself. Buyers are increasingly interested in the community. They want dog walking parks and high walkability scores, diverse options in restaurants and shopping, book clubs, quaint coffee shops, and more. When searching for Lake Sammamish houses, many buyers want easy waterfront access, their own private docks, or larger plots of land. Don't get so wrapped up in detailing your house that you forget to detail the creature comforts of your neighborhood and the fellowship that your community provides. This too leads back to why you were attracted to your home in the first place.

Does your community afford you high levels of privacy, or are you surrounded by like-minded people and have countless opportunities to socialize? No matter what the appeal of the surrounding community was for you, it should be lauded just as heavily as the number of bathrooms your home has, its recreational features, its views, and all of its other standout attributes.
3. Realize that good visuals mean everything
The greater part of house shopping is increasingly being completed online. Now that people are able to do so, most are touring properties right from their own homes. Many motivated home buyers are creating lists of prospects and carefully whittling them down long before they even consider in-person tours. Thus, if your listing lacks high-quality visuals and lots of them, you're guaranteed to miss out.

Getting the right visuals for your home means hiring the right professionals, not creating them yourself. Professional real estate photographers know how to find the perfect vantage points, the perfect lighting, and the right elements to include. They're adept at creating images and image galleries that give prospective buyers insight. Professional photos also give you an easy opportunity to set your home apart from other active listings in your area. For instance, you can publish aerial views of your home and add images of closet spaces, your attic, and your wine cellar. You can even include multiple images of your garage or other exterior buildings. The more expansive your photo collection is and the more that buyers can see of your home, the less likely they are to think that you've got something to hide.
4. Align yourself with the right real estate agent
Don't try to do it all yourself. Even if you're a bona fide expert in staging properties or you've got extensive marketing experience in other areas, selling luxury homes is best left to the people who do it for a living. The reason for this is largely tied to the networks that seasoned real estate agents have painstakingly built.

Given their higher price points, luxury homes must appeal to a smaller and highly specialized market. Moreover, given that most luxury homes are unique in their architecture, ambiance, and design details, selling them is about connecting the right sellers with the right buyers. If you want more high-quality offers, working with an agent who knows people who are already in the market for what you're offering is the best way to go.
5. Don't skip the staging process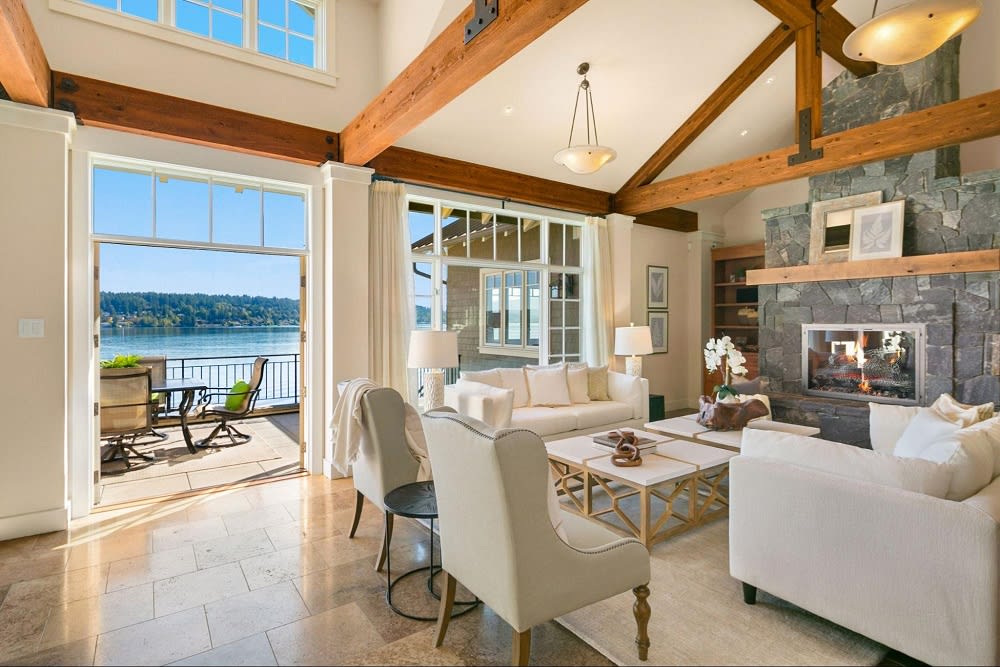 In an ideal world, luxury homes sell themselves. Although this is sometimes the case, it's always important to depersonalize your space and stage it for the sales process. Staging gives you the opportunity to showcase your home's most appealing features while downplaying things that you wish you could change. If your home has big bay windows and a stunning view of Lake Sammamish, staging is your chance to make the windows the centerpiece of your front room. This way, prospective buyers are guaranteed to be "wowed" by this factor.

Staging also removes the unique design elements that perfectly fit your lifestyle but may be a turn-off for others. You want prospects to be able to see themselves living in your home rather than feeling as though they're touring a permanent piece of your life. With staging, you can remove on-trend color schemes, risque artwork, and pieces with value that are largely sentimental. With the right combination of neutral tones and artfully paired furnishings and accessories, you can create an essentially clean canvas on which buyers can imagine their own lives.
6. Price your home right from the very outset

Accurate pricing is the Achilles' heel of luxury property owners who attempt to sell their homes by themselves. While you might think that you know what your home is worth, it's important to have market insight. This is one of the best reasons to align yourself with a reputable real estate agent before listing.

Pricing your home too high at the outset can turn knowledgeable buyers off — and buyers are becoming increasingly savvy. Pricing it too low can stigmatize your home by making buyers think that there's something wrong with it. Worse still, if your listing enters the MLS with the wrong price and doesn't budge, it will gradually develop a lasting reputation as undesirable. This remains true even when homes are in outstanding condition and have a wealth of in-demand features and amenities to offer.
It's never easy to drum up massive amounts of attention for a home that's been priced incorrectly from the start. Consider recent sales data from comparable homes in the region and current market conditions. If you have a knowledgeable agent on your team, you can
easily avoid pricing mistakes
that slow your sale down or bring it to a grinding halt.
7. Consider national and international promotions
Promoting homes internationally will open you up to a far larger and far more diverse market. This is an effective tactic for selling high-end luxury homes at steep prices. There's a finite number of home buyers in your immediate area that are qualified to buy what you have to offer and who actually want it. Promoting a home nationally and internationally can also increase its local appeal by adding intrigue. When links to national and international property ads are incorporated into general, local marketing materials, local interest is often piqued.
8. Remember that the exterior of your home matters just as much as the interior
In Bellevue and Lake Sammamish, property exteriors are just as important as the interiors of homes, if not more so. The largely outdoorsy nature of buyers in this region makes landscaping, privacy, and room to roam essential characteristics. Many property shoppers are moving away from luxury homes in Seattle and other urban areas where even high-end properties leave little room for gardening, outdoor sunning, and play. Be sure to include detailed photos of your outdoor features in your image gallery. Add your property exterior to your virtual tour, and showcase the attributes of your grounds in your printed marketing materials.
Ready to list your Bellevue home for sale?
At Margo Allan, we have extensive experience in selling luxury
Bellevue homes
and
waterfront properties on Lake Sammamish
. As a leading Sammamish, WA real estate agent, I know what buyers are looking for and how to deliver. To find out how we can help you get more offers for your luxury home,
contact us today
.

*Header photo courtesy of Margo Allan Real Estate