With all the changes of the past few years, we are finding ourselves spending more time at home, making time for introspection, and looking at our interior spaces. This is only natural as our house is where we spend most of our time — living, working, laughing, and making memories. We want our homes to be comfortable, functional, and welcoming, but we also want them to evoke a feeling and reflect our personal flair. Well-designed, intentional decor can help you create a truly your own space.
What are the new
trends in interior design
, and how can you make them your own? Here are a few ideas for those who want to integrate new design inspirations into their Lake Sammamish waterfront homes.
Warm and cozy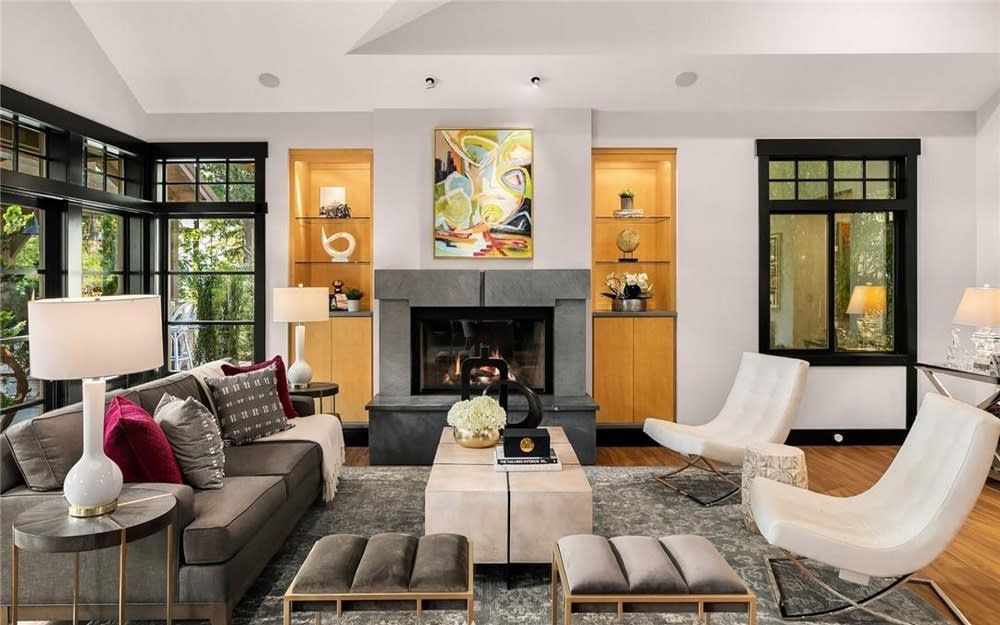 According to design experts, humans are naturally drawn to anything warm and welcoming. This is probably because we all seek solace in our houses now more than ever. Or perhaps we have a new appreciation for the comforts of home. Whatever the reason, materials, colors, patterns, and furniture that give a sense of peace and calm have risen to the forefront.
Get earthy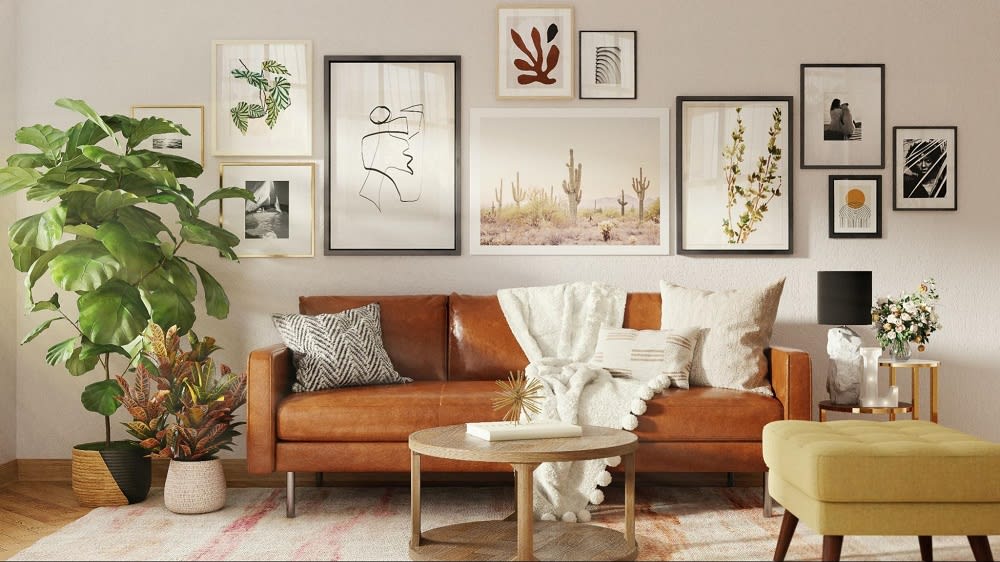 Warm browns and tones of beige
set the backdrop for soft leather furniture and russet terracotta hues. Chocolatey caramel and gold give off a decidedly groovy 70s vibe, which is also reflected in some of the popular mod patterns making a resurgence in, you guessed it, wallpaper. But this time around, there's less orange and a more subdued nod toward nature-inspired colors and shapes. And "earthy" isn't limited to shades of brown as green's popularity rises to the occasion, transforming inside spaces to reflect the colors of nature.
Naturally luxe materials
Luxury and nature have merged with the popularity of natural linen, wool, and leather materials. Soft throws and plush pillows welcome visitors to get comfortable. Sustainability is still a key influence, so recycled materials, sustainable products, and vintage elements remain popular. Leather furniture that wears beautifully over time is also making a comeback, as timeless pieces stand up to shifts in popular trends.
Organic materials and shapes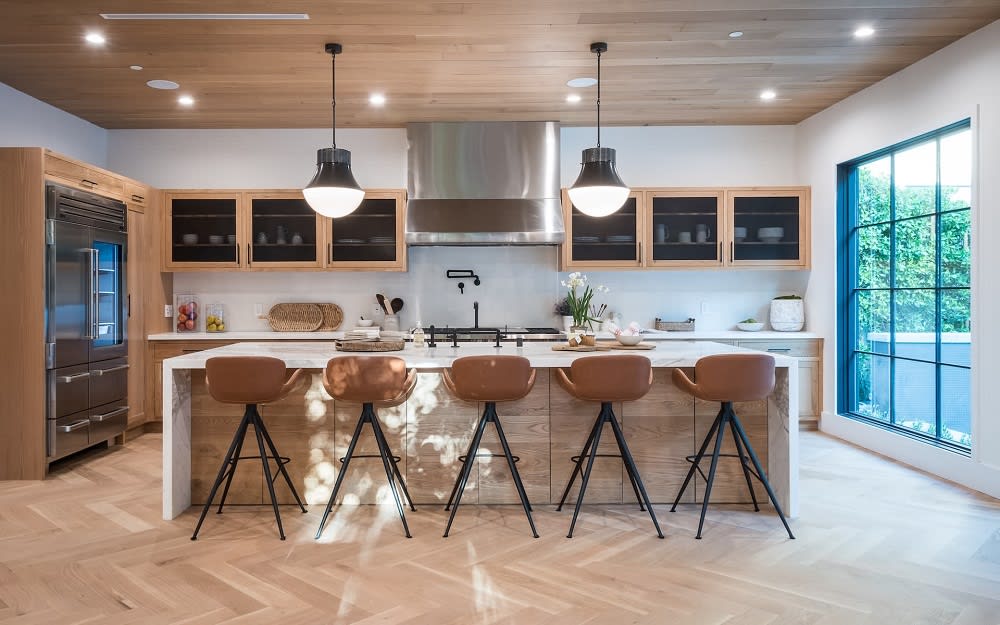 Spending more time indoors has influenced a trend to bring the outside in and help us connect deeper with nature. You'll find wood, stone, and terracotta applied in innovative new ways — as backsplashes, furniture, and floors. Exciting textures and natural imperfections create focus and remove any cookie-cutter appearance so homeowners can make unique design choices.
Also inspired by the organic form,
curvy silhouettes
emerge in everything from furniture to lighting to art objects. Soft lines have replaced minimalist corners because curved shapes are friendlier and more welcoming. And decorators are bringing the outside in with large plants and full-size trees, making homes a living, breathing entity to calming natural spaces that rejuvenate the soul.
Bringing the inside out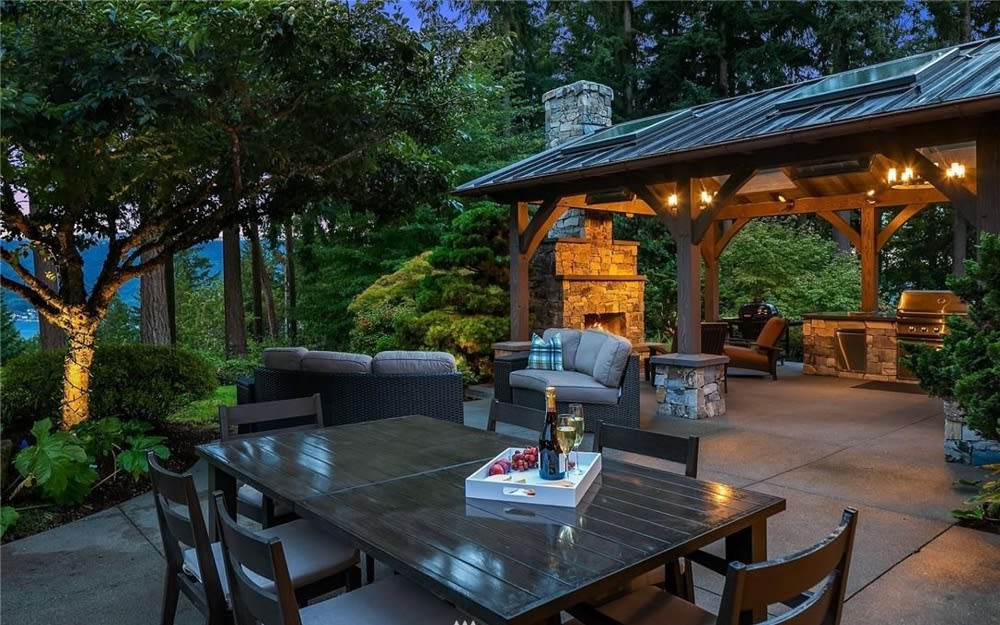 Nowadays, the indoors and outdoors have blended in the design world. This is a particularly appropriate design trend for Lake Sammamish waterfront homes or any home that coexists with outdoor beauty. The trend intentionally creates outdoor spaces that include the comforts of indoors. It's almost as if residents can seamlessly move from indoors to outdoors, and vice versa, without making a conscious transition of space.

This means elevating the outdoor living experience with stylish and functional furniture, cooking surfaces, and water elements. This is also heavily influenced by the increase in outdoor entertaining that became de rigueur during the pandemic. Elegant outdoor rooms suitable for entertaining guests can be seen in many Lake Sammamish real estate properties.
Functional spaces
As kitchens became classrooms and dining rooms became conference rooms in the past few years, homeowners have taken serious inventory of how they use space. Rooms that are multifunctional and flexible are not just convenient but also a requirement of modern-day life. Working from home has become a reality for many, prompting home designs to accommodate.

While open floor plans are still very popular, the need for quiet places to study or hold meetings has created a demand for private, segmented rooms. And as working from home becomes a permanent option for many homeowners, they are putting a premium on making sure every inch of their homes is usable and valuable. That means rooms and decorative objects that combine form and function will find a place.
Traditional details
Uncertainty naturally shifts cultural preferences toward things that are reassuring and comforting. This means subtle nods to nostalgia, vintage elements, and old-fashioned items in terms of design. Bold colors and mod patterns from the 60s and 70s make wallpapers groovy again. And using treasured family antiques as signature pieces has come to the fore, likely inspired by the so-called
grandmillennial
movement that embraces an updated version of our grandmother's chintz-and-lace sensibility. However, this doesn't mean homes will look like a visit to granny's house. The return to a more traditional style still follows a less-is-more philosophy with carefully curated floral patterns, wallpapers, and objects.
Cheerful colors
In addition to seeking comfort in our homes, we are also looking for a cheerful mood. Color can set the tone of your interior space, boosting the spirit with pops of bright color. Vibrant greens top the list of popular accent colors for 2022, as do brilliant blues and purples. Pantone recently named
Very Peri
the 2022 Color of the Year. For the year, other paint color trends run the gamut from sage green to cobalt blue. A fresh coat of paint remains one of the quickest and easiest ways to give your Lake Sammamish real estate a facelift.
Whether you are looking for fresh ideas to update your current home or looking for Lake Sammamish waterfront homes for sale,
Margo Allan
has an in-depth knowledge of the Lake Sammamish real estate market and can help you find what you need.